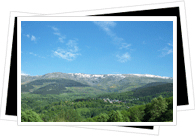 Introduction
Located in the province of Salamanca, Bejar is a great example of stunning scenery that is complemented by an array of activities that provide excitement and fun for the whole family.
What to check out
There are several prestigious monuments surrounding Bejar, including the Ducal palace. Now a college, it dates back to the 16th century. There are also remains of 11th century Moorish walls. If you have an interest in bullfighting, then get a taste of history at one of Spain's oldest bullrings, built in 1711.
Sierra
In the surrounding mountains, get prepared for the winter sports at the Sierra de Bejar la Covatilla ski resort. There are also a few villages that are definitely worth a look. La Sierra de Francia, for example, is an area which has beautiful scenery and pretty mountain villages.