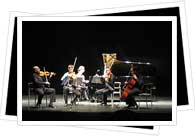 While many seem to be under the impression that flamenco is synonymous with Spanish folk music, the range of Spain's musical tradition is remarkably multi-faceted and yet largely undiscovered. In fact, travelers to Spain's inland and northern regions are often surprised to hear music featuring instruments like soulful bagpipes and festive tambourines- nothing like the fervent guitar-strumming of the Spain of popular imagination!
Salamanca, Spain Music History:
Salamanca fits under the musical umbrella of inland Spain's Castilla-León region. Just as the area's string of civilizations had a major impact on its history, they have also played a monumental role in the development of the area's music. Along with the impact of the Celtiberian tribes that first settled the area, traces of Gypsy, Portuguese, Roman, Jewish, and Moorish cultures can all be found in Spain's music.
Salamanca, Spain Music:
While the Spanish guitar undeniably reigns supreme in southern Spain as well as in popular imagination, the six-stringed instrument plays a secondary role in the Castilla-León region. Throughout Castilla-León, the "dulzaína," a reed instrument similar to an oboe, as well as percussion and pipe instruments are fundamental elements in this region of Spain's music. Bagpipes and tabor pipes also enjoy widespread use- especially in the northern part- which results in many similarities to the Celtic-inspired music of Galicia, Spain's northwest region.
In terms of music accompanied by dance, the jota is perhaps the most popular of the group. Originally hailing from the region of Aragón, the jota has spread to practically every corner of Spain. Each region, however, has fine-tuned and adapted the jota by incorporating their own local styles and tastes. In Castilla-León, for example, the version of the jota has a uniquely slower tempo.
Finally, Salamanca is known as the home of the tuna- and no, we're not referring to the variety with fins and gills! A "tuna" is a serenade played with guitars and tambourines; think of it like the Spanish version of Mexico's mariachi bands. Generally played by students donning medieval get-up, you're likely to run into them playing in restaurants, plazas, terrace cafés... anywhere where they're likely to encounter delighted tourists.
Music in Salamanca, Spain Today:
Following a 19th and 20th century resurgence of regional folk music throughout Spain, Salamanca continues to embrace the traditional music of the Castilla-León region while showing equal interest in the newer musical stylings of contemporary and jazz. The city hosts a myriad of festivals featuring anything from traditional religious to funky electronic, welcomes a variety of major concerts throughout the year, and even has two renowned musical groups: the Orquesta Barroca de Salamanca (Baroque Orchestra of Salamanca) and the Salamanca University's Chamber Choir.