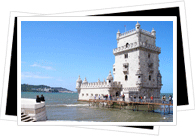 Introduction
Portugal has numerous claims to fame, amongst them its being one of the most most peaceful of countries. What's more, the country is full of charming towns, interesting cities and diverse attractions, not to mention its sporting reputation - particularly in football - isn't to be dismissed!
Lisbon
Lisbon, considered the most popular city in Portugal, is brimming with activity and is a must on any travel itinerary in Portugal. First on the list is the Belem tower. Created way back in the year 1515 (standing next to it would make anyone feel youthful), it was the last point for sailors and adventurers to see their home land before they shipped off on their voyages of discovery! It has strong late Gothic influences and it is covered with the decoration of successful travels.
If you're looking for somewhere to take the kids or if you're just a secret fan of The Little Mermaid (no problem we have all been there) then check out Oceanarium. Calling it huge is an understatement, as it has over 25,000 fish stocked that are at home in olympic-sized swimming pool surroundings. Peter Chermeyeff's creation has paid off with its almost invisible walls which create the feeling of being with the sealife that surrounds.
Those with a flare for fashion should definitely check out MUDE. This design and fashion museum was established in 1999 and has been deemed one of the most popular museums in Europe. With over 230 designers' collections - including such big names as Yves Saint Laurent and Jean Paul Gaultier - within you shall certainly find some time to match your tastes.
Evora
The second city that is definitely worth visiting is Evora. It invites you to look around its religious surroundings with some particularly interesting sights. The first place to visit is called Capela Dos Ossos (Chapel of Bones), which believe it or not does indicate what you'll see here. It's needless to say that if you enjoy sleeping that you should probably keep the kids away from this one. Still an interesting design for the sake of curing curiousity, a decorative pattern of various skeleton bones around the walls and pillars make this a truly unique experience.
The Templo de Diana (Temple of Diana) is a facinating insight into the very impressive endurance of Roman construction. It was created in 2 A.D. and has survived the test of time over the many years.