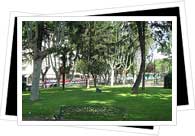 Whether you're entertaining thoughts of a refreshing jog, a leisurely stroll, or a laid-back picnic lunch, you will find the medley of Salamanca parks to be amongst some of the most enjoyable spots in which to be. So stroll beneath the poplar trees of the Parque de San Francisco, check out the Parque de la Alamedilla's small zoo, revel in the literary romance of the Huerto de Calixto y Melibea, and more!
Parque de San Francisco
The oldest Salamanca park is the Parque de San Francisco. The park- through which prolific Spanish writer Miguel de Unamuno was known to stroll- features stone fountains, sculptures, and unbeatable views of the beautiful roofs of some of Salamanca's most distinctive buildings: the Cathedral, the Clerecía, the Monterrey Palace, and the Convent of the Úrsulas. Particularly enjoyable during the toasty summer months for the shade it provides, the park also boasts lush vegetation, amongst which are 600 poplars planted back in 1828.
Huerto de Calixto y Melibea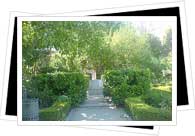 Situated directly upon Salamanca's ancient walls with views of the Tormes River and of the Cathedral towers, the Huerto de Calixto y Melibea is easily the prettiest of Salamanca's parks. The quiet, intimate garden full of leafy trees and blooming flowers was built with the intention of its being a romantic parcel of land for leisurely strolls. The gardens' medieval aspect and romantic air are only intensified by its literary reference, named after the characters Calixto and Melibea from Fernando Rojas' masterpiece "La Celestina."
Parque de la Alamedilla
Built in 1882, the Parque de la Alamedilla is known for the unique installations nestled into its tremendous variety of trees, plants, and flowers. In the heart of the park, you'll find a picturesque lake surrounded by weeping willows in which swans and ducks idly paddle about. Nearby, there's a small aviary where you can observe birds, rabbits, and other small creatures. Aside from this tiny wildlife zone, the park also boasts a small zoo with its huge lime tree- the emblem of the park- right in the middle.
Parque de los Jesuitas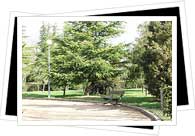 Salamanca's biggest park, the Parque de los Jesuitas, is ironically the park located right in the middle of the city and is a great way to idle away a few hours, take a jog, or enjoy a bike ride. The park consists of eight distinct zones, throughout which you can find roses, poplars, fruit trees, and a lake bordered by lavendar hedges. Built for public use over an expanse of land belonging to the Jesuits, the park is ideal for a wide range of sports, recreation, and leisure activities.
Other Salamaca Parks & Gardens:
-Parque Fluvial
-Jardín de la Merced
-Parque Pablo Picasso