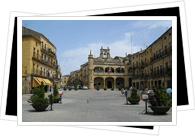 Ciudad Rodrigo is a perfectly located getaway destination with tons to see and do. The architecture and history of the town are two of the main attractions which serve as reminders of the city's turbulent past. Originally inhabited by Neolithic Settlers and later Vettones, Romans, Moors and Christians, Ciudad Rodrigo's strategic position on the Spain-Portugal border means it is was of great importance in the Peninsular war. France took the city in 1810 and two years later it was violently seized by the British. A wander round the tiny winding streets to take in some of the beautiful Renaissance Mansions is a great pleasure in itself.
The historic town of Ciudad Rodrigo makes a wonderful day trip from Salamanca, or you could splash out and stay a night or two in the beautiful Parador which is housed in a fourteenth century castle.
Ciudad Rodrigo Highlights
The first thing that will strike you on arrival at the city are the enormous 12th century walls which surround it. The sturdy inner and outer walls are 1500 metres long and are scarred by pockmarks from the cannon balls fired by the British in the Peninsular War. Follow the walls round before ducking into the maze of tiny stone streets to get a real feel for this attractive city.
Most people mention the Plaza Mayor as one of their most vivid memories of Ciudad Rodrigo - and that fact that it is very very pretty. Flanked by sand coloured stone buildings, cafés and brightly coloured awnings, what this plaza lacks in grandeur it makes up for in charm.
The Cathedral of Santa Maria is another landmark - an eclectic mish mash of styles and add-ons from between the 12th and 14th centuries, the cathedral showcases intricate carved stone arches and an unsual mixture of baroque and gothic styles.
The Renaissance Mansions which are scattered around the city centre are truly beautiful, in particular, the Palacio de Moctezuma which is also the Casa Municipal de Cultura.