Museum of Art Nouveau & Art Deco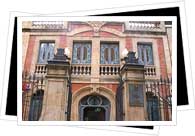 (Museo Art Nouveau & Art Decó)
The building, which itself looks like it was half-constructed from brilliantly colored glass, housing Castilla y León's most popular museum is certainly a one-of-a-kind structure in the midst of Spain's "golden city." Built for an art nouveau enthusiast at the turn of the 20th century, the museum features a wide range of items hailing from these two closely-related artistic movements: lamps, vases, furniture, bronze statues, porcelain figures, jewelry, paintings, etc.
c/ Gibraltar, 14
Tlf: 923 12 14 25
Salamanca Museum - Museum of Fine Arts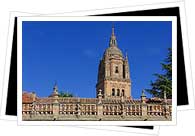 (Museo de Salamanca - Museo de Bellas Artes)
With its tradition of unrivalled artistic talent and beauty, it's no wonder that Salamanca has a fantastic- albeit small- museum of fine arts. Amongst its diverse collection you'll find sculptures, paintings, alterpieces, and even some archaeological finds from throughout the area. The pride of the museum, or at least the most famous painting, is Luis de Morales' masterpiece "Llanto" (Cry). Housed in a part Gothic, part Renaissance noble mansion, the building and its contents are worth a visit.
c/ Patio de Escuelas, 2
Tlf: 923 21 22 35
Centro Internacional de Arte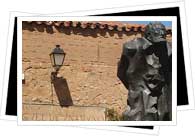 (International Art Center)
Whether it be of paintings, sculptures, or engravings, the Centro Internacional de Arte's claim to fame is that it offers a brand new temporary exhibition each month without fail! The majority of the exhibitions that pass through feature contemporary art, but you may stumble across some abstract and representational work thrown in as well. The works of well-known artists have been known to pass through- originally paintings by Pablo Picasso, for example, have been put on display from time to time.
Plaza España, 5-6, Edif. España
Tlf: 923 22 88 88
University Museum
(Museo de la Universidad)
While its collection of clerical robes and artwork is interesting enough, the real draw is the building itself. Amongst the arches of the patio (courtyard) of the Escuelas Menores (essentially the Salamanca University preparatory school), seek out the ceiling fresco depicting the zodiac before heading to the Sala de Exposiciones (Expositions Room). This room boasts two more fascinating ceilings: one in the Mudejar (Moorish-influenced) style and the other in the Renaissance style. It's included in the entry fee to the University, so you might as well take a look!
Patio de las Escuelas Menores
Tlf: 923 29 44 00
House-Museum of Unamuno
(Casa-Museo de Unamuno)
Immerse yourself in the life and times of Miguel de Unamuno, Salamanca University's most famous vice-chancellor and one of Spain's most prolific writers and thinkers. The house, originally reserved for whoever occupied the post of vice-chancellor of the university, was converted into the Unamuno House-Museum shortly after his lengthy term. Within, you'll find his furniture, personal effects, books, mementos, and a wide range of other objects left just as he had them.
c/ Libreros, 25
Tlf: 923 28 44 00
Bullfight Museum
(Museo Taurino)
Set right smack in the middle of Spain's most prominant bull-breeding territory, it shouldn't come as a surprise that Salamanca has a museum dedicated to this quintessentially Spanish sport (or cultural event, as the aficionados prefer to call it). Learn about the event, see those shiny get-ups that bullfighters don, discover bullfighting's important roll in Spanish- and international- literature, and more.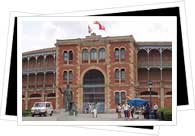 c/ Doctor Piñuela, 5-7
Tlf: 923 23 54 32
Cathedral Museum
(Museo Catedralicio)
While technically called the Cathedral Museum, it's really a museum dedicated the work of Salamanca's most famous artist: Fernando Gallego. While you're visiting the Catedral Vieja (Old Cathedral) take a look through the museum- it's tucked right in!
c/ Plá y Deniel
Tlf: 923 21 74 76
Salamanca Museum of the History of the Automobile
(Museo de Historia de la Automoción de Salamanca)
From awkward-looking wheeled contraptions to flashy sports cars, this museum features over 100 models that span the history of the automobile.
c/ Mercado Viejo, s/n
Tlf: 923 26 02 93
Museum of the Úrsulas Convent
(Museo del Convento de las Úrsulas)
c/ Úrsulas, 2
Tlf: 923 21 98 77
Museum of the San Esteban Convent
(Museo del Convento de San Esteban)
Plaza del Concilio de Trento
Tlf: 923 21 50 00
Museum of the Santa Clara Convent
(Museo del Convento de Santa Clara)
c/ Santa Clara, 2
Tlf: 923 26 96 23
Museum of City History
(Museo de la Historia de la Ciudad)
Plaza Juan XXIII
Tlf: 923 21 41 80