Top 10 Reasons to Travel to Salamanca, Spain!
1. Vibe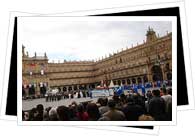 Salamanca is perhaps the youngest old city in Spain. Confused? Salamanca, which boasts a dignified and even regal air due to its marvelous architecture and prestigious historical background, also throbs with the youthful vibrance of the university crowd. This interesting juxtaposition of old and new, of tradition and innovation, and of past and future yields an infectious, one-of-a-kind vibe unique to Salamanca. For example, spend an afternoon sitting at one of the terrace cafés set out in Salamanca's resplendent Baroque masterpiece- the Plaza Mayor- and then cap off the the evening hitting up the most modern night clubs.
2. Nightlife
In Salamanca, think of sundown as a kind of gun shot signaling the beginning of a high intensity horse race. Salamanca is famous for its nightlife- and no, we're not just saying that. The city's diverse national and international student population keeps Salamanca, which would probably otherwise be a laid-back and sleepy city, alive and buzzing with music, laughter, and energy until the wee hours of the morning. Be prepared for all-night glass-clinking and copa-drinking in Salamanca's eclectic mix of bars, clubs, and chupiterías (shot bars).
3. History
Having changed hands repeatedly over the course of its lengthy history, Salamanca got its start as a fort defending the founding Celtic tribes' territory and has since seen epochs of great prestige, of debilitating declines, and of everything in between- it's much like a history book telling the tale of Spain itself. Salamanca has seen it all: the massive book-burnings and executions of the harsh Spanish Inquisition, the first major turning point in the fight for European hegemony against Napoleon, and the prestige of being hailed one of the academic hubs of the world- and that's just to name a few highlights of Salamanca's past. Learn more about Salamanca history...
4. University

Founded in 1218 by King Alfonso VI, the University of Salamanca's doors have since opened to welcome such famous figures as Miguel de Cervantes, Christopher Columbus, Ignatius Loyola, Hernán Cortés, and Miguel de Unamuno- some as students, some as lecturers, and some as university vice-chancillors. Once considered amongst the world's "four leading lights," the university was nose-to-nose with the universities of Oxford, Paris, and Bologna. Structurally, the university building is an architectural marvel- and it even has a secret or two begging to be discovered. If you're able to find (unaided, that is) the tiny, elusive frog hidden amongst the extreme stylization of the Plateresque facade, word on the street is that you're guaranteed good luck. Learn more about the Salamanca University...
5. Architecture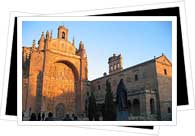 With everything from Romanesque churches to colossal Baroque plazas, Salamanca is a whole chest of glimmering architectural treasures. In fact, due to their construction from local sandstone, over the years the buildings have acquired a soft golden glow for which the city has garnered the nickname "the golden city." The real highlight is Salamanca's Plateresque and Churrigueresque architecture. Lose yourself in the details and motifs of these styles which, when spread across buildings' facades, look like magnificently sculpted tapestries. Learn more about Salamanca architecture...
6. Plaza Mayor
Fittingly known as Salamanca's "living room," locals and visitors gravitate to the city's grandiose Plaza Mayor, considered to be the most elegant of Spain's main city squares- that's saying a lot, considering practically every Spanish city and town boasts their own Plaza Mayor! Built by one of the Churrigueras, the family responsible for the adequately named Churrigueresque Baroque style, the enclosed plaza features arcaded walkways, iron balconies, the stunning façade of the Ayuntamiento, and a myriad of pleasant terrace cafés- possibly the most picturesque setting for sipping a drink and people-watching! Learn more about Plaza Mayor...
7. Gastronomy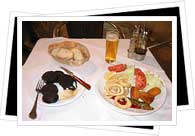 Due to its geography, in terms of food the Salamanca province is almost entirely self-reliant. Cool, mountainous highlands yield some of Spain's best meats and cheeses while expanses of pastures and fields provide a great variety of fresh vegetables and fruits. Who knew that combining simple elements in both traditional and innovative ways could yield such a delicious cuisine- just try some of Salamanca's roasts, stews and a wide range of other hearty dishes typical of the Spanish countryside. Learn more about Salamanca food...
8. Location
Situated in western Spain's community of Castilla-León, Salamanca is just over two hours from the ultra-cosmopolitan bustle of Madrid, one hour from neighboring Portugal, and otherwise surrounded by a wealth of nearby cities and villages. With great transportation running in and out of the city, Salamanca serves as a perfect starting point for a countless number of culturally and historically fascinating excursions in this tradional "old Spain" region.
9. Language
If you have a good ear, you'll notice that Spanish is a bit different in every part of the Spanish-speaking world. However, there's an explanation for why so many students come to Salamanca to learn or fine-tune Spanish skills; Salamanca and its urban neighbor Valladolid compose the select zone of Spain in which the "purest Spanish" is said to be spoken. For this very reason, Salamanca has highly developed and successful language programs- check out more about Spanish courses in Salamanca...
10. Museums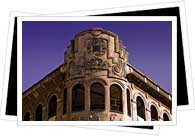 It's no surprise that Salamanca, one of Spain's cultural capitals, has a fascinating mix of museums. Celebrating everything from the life and times of Spain's prolific writer Miguel de Unamuno to displays of bullfighting paraphernalia, art nouveau and antique automobiles, Salamanca's museums are sure to quench the thirst of the culturally curious. Find out more about Salamanca's museum scene..