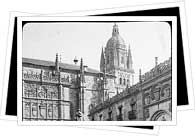 Appropriately dubbed Spain's "golden city," the glimmering sandstone hamlet of Salamanca is like an ancient treasure chest full of cultural gems. Eternally one of Spain's most prized assets, the stunning city has been Spain's academic core for the prestigious Salamanca University and is today not only a UNESCO World Heritage City but also a European Capital of Culture, a title bestowed upon it in 2002.
Situated in the autonomous community of Castilla y León, Salamanca is situated amongst the region's landscape of dramatic mountain ranges and pastures extending beyond the horizon. While feisty Andalucía may be the Spain of popular imagination, this land of castles- from which Castilla derives its name- is the region of genuine Spanish culture, time-honored tradition, and dignified grandeur. Boasting traditional villages, historic cities, and more medieval castles than anywhere else in Europe, Castilla y León provides the perfect setting in which ancient history, literary heroes, and whimsical legends unfold and seamlessly weave together- a facet reflected in Salamanca's festivals of archaic and folkloric origins.
Here, the foundations of modern Spain were laid as Castilla y León headed up the most powerful force of the unification of Spain, leading the Spanish "Reconquista" (Reconquest) and instituting Castellano (Castilian)- more commonly called modern Spanish- as the official language. In fact, Salamanca and its neighbor Valladolid head up the zone of the "purest" Spanish; for this very reason, students from all over the world looking to study Spanish flock to Salamanca.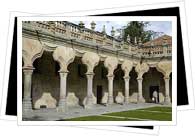 Since the day Alfonso IX of León founded the university in 1218, Salamanca has been defined as a city of elite academia and intellectual stimulation. During its centuries of existence, the Salamanca University became one of the four "leading lights" of the world alongside the universities of Paris, Oxford, and Bologna. It counts Jesuit founder Saint Ignatius Loyola, revered author Miguel de Cervantes, and discoverer Hernán Cortés amongst its students and Christopher Columbus spent time as a guest lecturer, speaking about a few rather famous voyages. Even today the city maintains the genuine feel of a seat of learning, as thousands upon thousands of students from Spain and abroad arrive in search of intellectual growth.
In great part due to this student population, Castilla y León's most stunning city is also by far its liveliest. In fact, little Salamanca is considered to be right on par with- if not surpassing- major nightlife cities like Madrid and Barcelona. The unstoppable energy of Salamanca's national and international student population fills the ancient city streets with a vibrant, invigorating spirit- not to mention an eclectic hodgepodge of bars and clubs that teem with enough copa-drinking and glass-clinking to delight any party animal.
While night time in Salamanca is a frenzy of music, dancing, drinking, and socializing, daytime Salamanca is laid-back and enchanting, a vibe which fits its cobbled streets and the centuries-old buildings untouched by the passage of time. Yes, the city may be large and forward-looking enough to have all of the offerings of the most modern of cities. However, a sense of intimacy typical of a close-knit village has not been lost due to its ancient streets, tranquil parks, and respect for its history. To really soak up this atmosphere, head to the breathtaking Plaza Mayor- considered to be the most beautiful in Spain. Known as Salamanca's "living room," the beautiful Churrigueresque plaza is a meeting place for people of all walks of life out for a stroll, a leisurely coffee, or a spread of tapas.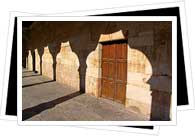 Living in a veritable wonderland of architecture, Salamanca's 160,000 citizens, along with tourists and students, revel each day in the collection of Romanesque chapels, Plateresque façades, and Baroque plazas. Tucked right in you'll also find clusters of tranquil cafés for a late-afternoon nibble, restaurants ideal for trying Salamanca's delicious food and drink, and shops featuring anything from local handicrafts to designer clothing. Plus, don't miss out on a fascinating assortment of museums and cultural venues such as the Museum of Art Nouveau and Art Deco, Castilla-León's most visited museum, and the Filmoteca de Castilla y León, part film library, part museum, and part movie theater.
So head to the airport, climb aboard a train, or hop on a bus and dive headfirst into Salamanca's alluring sea of culture- it's not to be missed!