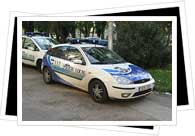 Crime- both major and minor- is practically unheard of in Salamanca, so when it comes to safety in Salamanca, the rule of thumb is to simply use your common sense and you'll be fine. However, as a popular tourist destination, incidents of pick-pocketing and bag-snatching in Salamanca do occasionally happen. Despite the warnings- don't panic! Salamanca may be an important city, but it boasts the intimate atmosphere of a small town- people feel very safe and so should you. Just keep the following tips in the back of your mind:
Some Safety Tips:
Keep a watchful eye on your belongings.
Women: use purses with zippers and sling them across your chest instead of over one shoulder.
Be particularly aware in crowded, touristy areas- unsuspecting tourists are the easiest targets.
Don't carry all of your valuable items- passport, money, credit cards- in one pocket.
Carry around a copy of your passport and leave the original in a safe in your hotel.
Be sensible- for example, don't count your life's savings sitting on a city bench.
In the highly unlikely event that something does happen and you want to report a crime, head to the police station:
Comisaría (Police Station)
Ronda Sancti Spiritus, 8-12
Tlf. 923 26 53 11
EMERGENCY NUMBERS FOR SALAMANCA:
Emergency: 112
Ambulance: 923 22 22 22
National Police: 091
City Police: 092 or 923 27 91 38
Civil Guard: 923 12 72 00
Police Station: 923 12 77 00
Fire: 923 23 20 80
OTHER USEFUL NUMBERS FOR SALAMANCA:
R.E.N.F.E. (National Train Service) Information: 902 24 34 02
R.E.N.F.E Tickets: 902 24 02 02
RENFE Train Station in Salamanca: 923 12 02 02
Bus Station: 923 23 67 17
Post office: 923 28 14 57
Visas, Embassies, & Consulates
CREDIT CARD NUMBERS IN SPAIN:
If you have a credit card mishap and need to make a cancellation, you can call these toll-free numbers:
American Express: 915 72 03 03
MasterCard: 900 97 12 31
Visa: 900 97 44 45
PHARMACIES:
Like all Spanish cities, Salamanca has tons of pharmacies- one on practically every corner. While some private pharmacies are taking to staying open 24-hours, here's where to find the two "Farmacias de Guardia" that you can depend on no matter the hour:
Farmacia R. Blanco
Plaza del Oeste, 2
Tlf: 923 22 73 25
Farmacia Aurora Martin
Gran Vía, 21
Tlf: 923 26 69 07
Pharmacy Information & Locator: 900 17 17 27 (toll-free number)
HOSPITALS:
Hospital Virgen de la Vega
Paseo de San Vicente, 58-152
Tlf: 923 29 12 00
Hospital Clínico
Paseo de San Vicente, 182
Tlf: 923 29 11 00
Hospital Santa Trinidad
Paseo Carmelitas, 74-94
Tlf: 923 26 93 00
Hospital de Salamanca
Ctra. de Madrid, km .8
Tlf: 923 26 18 68