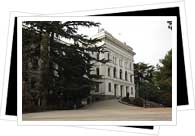 It certainly isn't difficult to soak up the culture in the Salamanca University quarter- it has essentially been a magnet of culture since the day it was founded back in 1218! Since those early days, the university flourished to become one fo the four "leading lights" of the world where important theories have been tested and proven, pioneering female professors have made their mark on history, and famous people such as Miguel de Unamuno, Miguel de Cervantes (he of the famous Don Quijote), and Christopher Columbus have passed through its Plateresque doorway. The atmosphere today is still unmistakenly that of a place of learning- rightly so, as students from all over the world come here in search of Spain's history, culture, and language.
The surrounding area is a veritable architectural playground in which the attractions range from soaring cathedrals to original Roman bridges. The culture-seeker certainly won't go away disappointed- the Salaamnca University quarter goes on to offer a theater tucked away in behind the cathedrals along with a wide range of fascinating little museums.
Seek out the museum housed within the Catedral Vieja (Old Cathedral) to see a stunning collection of works by Fernando Gallego, Salamanca's most famous painter or head to the Casa Lis, the most visited museum in the community of Castilla-León. The Casa Lis Museum of Art Nouveau and Art Deco is housed in a building constructed in the early 20th century for an art nouveau fanatic; within the building, which looks like it was half constructed of brilliantly painted glass, is a quirky but infinitely fascinating museum dedicated to the two closely linked artistic movements and features everything from furniture to paintings, vases, and porcelain figures. Definitely worth a stop!
Where to experience culture in the Salamanca University Quarter:
Museums
:
Art Nouveau & Art Decó Museum
Salamanca Museum / Museum of Fine Arts
Unamuno House-Museum
University Museum
Cathedral Museum
Theaters
: