Gothic Architecture in Spain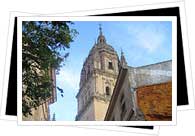 As was the case with the spread of Romanesque architecture, Gothic architecture made its into eastern Spain from France over the Pyrenees Mountains. While it eventually made an impact throughout the entire country, Gothic architecture first arrived to the northern half of the Spain more or less along the Camino de Santiago (Way of Saint James). This important religious pilgrimage route- which thousands upon thousands of people have and continue to complete- helped spread the style in the 12th century, when Gothic elements began mixing in with late Romanesque architecture before giving way to genuine Gothic in the 13th century.
Gothic Architecture Characteristics
With a couple of hundred years of architectural experience under their belts, Spanish builders were feeling more confident about construction abilities when Gothic architecture made its way to Spain. Flying buttresses were a major feature, designed to support the new soaring heights and thin walls- which were practically skeletal compared to the typical Romanesque bulk. A major integration of immense stained glass windows not only added color to the solemn interior but more importantly allowed a great deal of natural light to pour in. Other modifications made included thinner columns clustered together, pointed cruciform arches instead of barrel vaults, and the incorporation of elaborate choir stalls.
Gothic Architecture in Salamanca
In Salamanca, you'll find traces of Gothic architecture in the Salamanca University Quarter's Catedral Nueva (New Cathedral) and throughout the Plaza Mayor Quarter: the Torre del Clavero (Clavero Tower), the Casa de las Conchas (House of Shells), and the Iglesia de San Martín (Church of Saint Martin).