Romanesque Architecture in Spain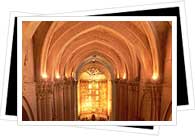 Having pushed Spain's populous Muslim community into the south, Spanish Christians across the north found themselves free to worship as they wished yet with no place to do so. At first, former Moorish buildings were converted and used but Christians eventually wanted to construct their own buildings. Essentially based on what they heard and imagined Christian churches in Rome to be like, Romanesque was that that first manifestation of Christian architecture in Spain.
Romanesque architecture first sprung up throughout western Europe and made its way to Spain via the Pyrenees Mountains, which run along the border between France and Spain. Naturally carrying along French-influenced Romanesque, Romanesque arrived and then developed in Spain throughout the 10th and 11th centuries, first in eastern Spain and then travelling west across northern Spain along the Camino de Santiago (Way of Saint James). This religious pilgrimage, which thousands of people continue to do today, is to thank for the Romanesque presence in Spain, especially throughout the regions of Galicia, Aragón and Castilla- where Salamanca is!

Romanesque Architecture Characteristics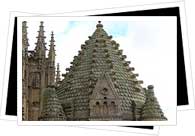 Beginning as a rudimentary style and without much guidance, Romanesque churches were first constructed in the basilica form, essentially meaning a simple, rectangular structure with three naves and a semi-circular apse at one end. With a few years of architectural experience under its belt, the Latin cross shape appeared in Spain's places of worship, their layouts naturally resembling a cross- the shape upon which the rest of Spain's Christian architecture would be based.
Typical elements of Romanesque architecture include thick walls, barrel vaults, the semi-circular apse, carved portals, and little but predominantly geometric decoration- checkers, zigzags, etc. Due to the thick walls and the insecurity of the builders about the best way to construct, openings (doors and windows) were kept narrow and the interiors were consequently very dark due to a lack of natural light.
The most important part of both floor plans- basilica and Latin cross- is the apse, symbolically the part of the cross that supported Christ's head. The apse, which during the Romanesque period always pointed west towards the Holy Lands, boasts the altar and focal point of the church.

Romanesque Architecture in Salamanca

In search of Salamanca's Romanesque architecture? Surviving Romanesque churches boasting exemplary Romanesque elements dot the city; in fact, no matter in town you are there's likely to be one just around the corner. Head to the
Salamanca University Quarter
to see the Catedral Vieja (Old Cathedral), to the
Plaza Mayor Quarter
to see the Iglesia de San Martín (Church of Saint Martin), or to the
East Salamanca Quarter
for the Iglesia de Santo Tomás Canturiense (Church of Saint Thomas).