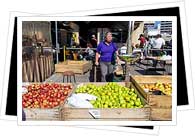 The goods, the prices, the atmosphere... nothing beats a poking around a genuine market! Luckily, "Salmantinos" (Salamanca locals) fully agree and embrace the market scene.
Housed in a historic 19th century building, the Mercado Central is an authentic local market where you can find the freshest meats, cheeses, eggs, fruits, vegetables, local handicrafts... the list goes on! Located just steps away from the Plaza Mayor, head to this market for a snack, to prepare for a picnic lunch, or simply to take a peek at all the action! A similar experience is to be had at the three-story Mercado de San Juan, located along the eastern edges of the city.
On Sunday mornings, head to the fairgrounds where the Feria de Salamanca is held for the weekly flea market, called El Rastro. With everything from shoes to ceramics, tools, and leather purses, you never know what kind of treasures you'll uncover that you didn't know you needed!
Finally, if you're lucky enough to be in Salamanca for Christmas, Semana Santa, or the Feria de Salamanca, don't pass up the opportunity to poke through the Mercadillo Plaza de los Bandos, a small, centrally located open-air market held a mere three times a year. Locals and tourists alike flock to this lively, seasonal Salamanca market to browse through all sorts of clothing, perfumes, toys, local handicrafts, and much more!
Mercado Central
(Central Market)
Plaza del Mercado, s/n
Mercado de San Juan
(Market of Saint John)
c/ Velarde, s/n
El Rastro
(Flea Market)
Avda. de Aldehuela, s/n
Mercadillo Plaza de los Bandos
(Plaza de los Bandos Market)
Plaza de los Bandos, s/n