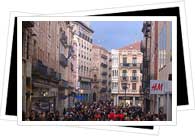 Deciding where to hit up Salamanca's shops depends on what it is you're looking for. From the latest fashion trends to convent goodies and local handicrafts, Salamanca has it all- and more!
If you're in "need" of a new jacket or a pair of snazzy shoes (Spain is famous for its shoe shops), the majority of Salamanca's fashion shops and Spanish department stores- Zara, Mango, Cortefiel, etc.- are clustered around Calle Meléndez and Plaza Mayor. These two areas are constantly buzzing with energy which makes browsing through the endless Salamanca shops extremely enjoyable. There are also numerous cafés and bars throughout the area, great for sipping on a beverage and getting geared up for more credit card damage!
Salamanca and its surrounding villages produce a wide range of high-quality handicrafts- great as gifts or trip mementos! Regional specialties include silver, leather, handmade lace, wickerwork, ceramics and woodwork, so if local handicrafts are what you're after, head to Calle Toro or Calle Zamora for all sorts interesting little specialty shops. You can also find an assortment of high quality local products at Artesanía Hernández (see below), a well-known Salamanca shop.
If you're running short on time or are simply more of a one-stop shopper, you can find several Centros Comerciales (Commercial Centers) dotting the city outskirts. The Centro Comercial El Tormes (see below), for example, will give you your typical mall experience with its restaurants, movie theaters, and nearly 100 shops dispersed throughout its two sprawling floors.
Finally, for anyone with a sweet tooth, be sure to keep Salamanca's many still-functioning convents in mind. The Convento de las Dueñas, for example, is a working convent in which the nuns continue to use traditional, centuries-old recipes to yield a delicious array of scrumptious confections. Try the "amarguillos!"
Artesanía Hernández
c/ Conde de Cadarrus, 21
Tlf: 923 12 07 98
Centro Comercial El Tormes
Avda. de Salamanca
Santa Marta de Tormes (Salamanca)
Convento de las Dueñas
Plaza del Concilio de Trento, 1