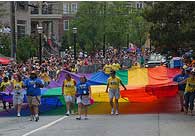 Ranging from lively cocktail bars to wild locales featuring elaborate drag shows, there are tons of hot spots to choose from if you're seeking out Salamanca's gay and lesbian scene. Here are just a few local favorites:
CarMen
c/ Patio de Comedia, 2
Go here for: Great music and ample dance space are two of the high points of this bar, which boasts a slightly older crowd.
De Laval Genovés
c/ San Justo, 27
Go here for: Known as El Submarino (the Submarine) for its nautical decor and interior resembling a gutted out submarine, De Laval Genovés is not an exclusively gay and lesbian bar but is none the less a favorite of the community.
Sol Café
c/ Pozo Amarillo, 28
Go here for: Its highly original atmosphere provided by varied music, a dance floor with a giant illuminated globe, drag shows and other performances.
Sarao
Avda. de Alemania
Go here for: One of the most popular bars for Salamanca's gay community boasting great music.