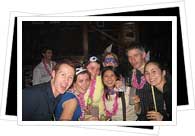 To hit up Salamanca's club scene, you won't have to look far- they're everywhere! However, two sure-fire areas to check out are the streets c/ del Prior and c/ de la Compañía, both of which are chock-full of these music-blasting locales. Plus, the majority of the clubs don't have a cover charge so you can hit up several without devastating your bank account!
Camelot
c/ de la Compañía
Go here for: This hugely popular club boasts a medieval theme and a frenetic atmosphere.
Cum Laude
c/ del Prior, 7
Go here for: Head to the huge, popular Cum Laude where its fun atmosphere, its young crowd, its energetic dance music, and its elegant decor never disappoint.
Garamond
c/ del Prior, 24
Go here for: A great selection of music and an interesting decor are just two of Garamond's highlights.
Morgana
corner of Cuesta del Carmen & c/ de Iscar Peira
Go here for: With one floor blasting techno music and the other blaring Latino music, Morgana's two floors of non-stop dancing action doesn't slow down until 5:00am.
Klapton
Plaza España, 5
Go here for: Klapton is a favorite amongst locals, students, and tourists.
Potemkin
c/ del Consuelo
Go here for: Hit up this club until 6:00am and enjoy endless hours of partying alongside the city's student population and dancing to always great- and often live- music.