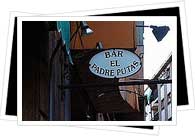 From relaxed cocktail bars to lively Irish pubs, specialty shot bars ("chupiterías"), and an intriguing collection of other atmospheric drinking establishments, the Salamanca bar scene a category of its own. Two famous ways to get the night started in Salamanca are visits to the "chupiterías" (shot bars) and the so-called "liter bars." Chupiterías have extensive lists of tasty shots while the claim to fame of the liter bars- found around the Plaza de San Juan Bautista- are their gargantuan beers and enormous mixed drinks ("cuba libres").
The rectangle formed by the streets Gran Vía, c/ Calderos, c/ del Consuelo, and c/ de Varillas in the southeast quarter of the old town is very student-oriented and full of music, dancing, and partying. With tons of bars teeming with the University's national and international student population, heading here is a surefire way to have a great time!
Taberna La Rayuela
Rúa Mayor, 19
Go here for: With low lighting and an intimate atmosphere, it's an enjoyable way to get the night started with some early evening drinks.
Juanita
Plaza de San Boal
Go here for: Another relaxed bar perfect for early evening cocktails.
Tío Vivo
c/ de Clavel, 3
Go here for: With whimsical decor and a one-of-a-kind atmosphere, enjoy drinks by candlelight surrounded by rare antiquities and carousel horses. Even if you don't want to stay, pop in just to check it out!
La Chupitería
Plaza de Monterrey
Go here for: A fun and popular way to get the night started is to head to this chupitería which boasts a huge list of yummy mixed shots at a mere €1.00 each.
El Gran Café Moderno
Gran Vía, 75
Go here for: One of the city's lively local favorites, El Gran Café Moderno's great DJ's ensure an equally great night.
O'Neill's
c/ Zamora, 14
Go here for: The lively atmosphere typical of an Irish pub.
Irish Rover
c/ Rúa Antigua
Go here for: This Irish pub is a city classic- mostly for its decoration! The bar is set up light a theater, complete with regal-looking chairs, second level boxes overlooking the dance floor below, and even a stage.
El Atrio
c/ San Justo, 27
Go here for: A fun time provided by the constant stream of international university students.
El Charro
Gran Vía, 66
Go here for: With fabulous cocktails and varied music, El Charro is a favorite amongst the university crowd.
Café-Bar Niebla
c/ Bordadores, 14
Go here for: A pleasant café by day and a lively cocktail bar by night, café during the day, the best time to hit up Niebla is around 1:30am.
Posada de las Almas
Plaza de San Boal, 7
Go here for: Open until 4:30am, enjoy Posada de las Almas' fun decoration while listening to anything from funky to pop, soul, and dance music.
De Laval Genovés
c/ San Justo, 27
Go here for: Known fittingly as El Submarino (the Submarine) for its nautical themed decor and its resemblance to the interior of a submarine, local favorite De Laval Genovés attracts a diverse crowd.