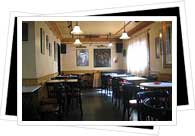 As a country that lives life in the streets, thrives on lively conversation, and revels in a good cup of coffee, Spain's coffee culture is quite nearly a perfect reflection of its people. Spanish cities boast tons of pleasant cafés where the clinking of coffee cups, the whir of espresso machines, and the hum of conversation constantly fill the air. In Salamanca, it's certainly no different; no matter where you are, you're guaranteed to find a café- or five- within seconds. Finally, while the cafés here will charge double the price elsewhere, the Plaza Mayor is certainly the most picturesque spot to nurse a steaming cup of coffee and soak up the Salamanca vibe.
Here is just a handful of Salamanca's cafés:
Café Unamuno
c/ Zamora, 55
Go here for: A great spot for breakfast, Café Unamuno serves great coffee and delicious pastries all day long.
Delicatessen Café
c/ de Meléndez, 25
Tlf: 923 28 03 09
Go here for: With its Antoni Gaudí-inspired interior, Delicatessen Café is the trendiest place to nurse your favorite beverage; a mixed crowd frequents the locale, but its proximity to the university makes it a popular student hang-out.
El Alcaraván
c/ Compañía, 12
Go here for: El Alcaraván, perhaps the most popular coffee shop amongst the university crowd, exhibits work of local artists to complement its coffees and cakes.
Café Principal
Rúa Mayor, 9
Go here for: Play board games, check out the local artwork, or just chat over coffee in this cute university favorite.
La Regenta
c/ Espoz y Mina, 19-21
Tlf: 923 12 32 30
Go here for: Candlelit along with furniture and decor of the late 19th century are the highlights of this café reflecting the epoch of "La Regenta," one of Spain's most famous literary heroines.
Birdland
Gran Vía, 5
Tlf: 923 26 74 99
Go here for: Jazz music and a Bohemian atmosphere makes Birdland great for a late afternoon caffeine boost.
Los Italianos
c/ Toro, 13
Go here for: By far Salamanca's most popular ice cream shop, Los Italianos also has coffee, pastries, and freshly squeezed fruit juices.
Caffé di Roma
c/ Meléndez, 2
Go here for: Boasting an Italian feel, this cozy café is known for its coffee, pastries, and wide selection of home-made cakes.