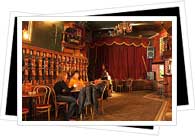 While quick to boast about the unbeatable quality of their local specialties, Spanish cities also harbor an ever-growing appreciation of international cuisine. In Salamanca you can easily find a host of eateries that serve up delicious dishes from all over the world. So whether you're in the mood for French boeuf a la mode, Pakistani chicken tikka, or a big platter of cheesy nachos straight from Mexico, you need not look far!
Here is just a sprinkling of Salamanca's international restaurants to get you started:
Chez Víctor
c/ Espoz y Mina, 26
Tlf: 923 21 31 23
Go here for: French
***The only Salamanca restaurant to be awarded a star by Michelin.
Bella Blu
c/ Pasaje Azafranal, 18
Tlf: 923 26 80 13
Go here for: Italian
Taj Mahal
c/ Maldonado Ocampo, 6
Tlf: 923 24 13 17
Go here for: Indio-Pakistani
Tourao
Ronda Sancti Spiritus, 23
Tlf; 923 21 44 61
Go here for: Brazilian
Restaurante Gran Shanghai
Rua Mayor, 35-37
Tlf: 923 21 18 10
Go here for: Chinese (good and cheap!)
Salam
c/ Placentinos
Tlf: 923 26 30 18
Go here for: Lebanese-Syrian
Mundo Griego
Plaza San Justo, 5
Tlf: 923 21 24 07
Go here for: Greek
Sakana
c/ San Justo, 9
Tlf: 923 21 86 19
Go here for: Japanese
Cantina Mariachi
c/ del Obispo Jarrín, 14
Tlf: 923 27 17 00
Go here for: Mexican