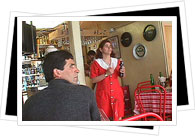 Your trip is only half over, you spent a little more than intended on yesterday's shopping adventure and- worst of all- you're hungry. Worry not! Salamanca offers tons of cheap eating options ideal for the diner on a budget. During good weather, for example, head to the market near the Plaza Mayor where you can pick up all sorts of fresh products for an outdoor picnic in a Salamanca park or plaza.
If trying the local specialties is a top priority, Salamanca boasts numerous bars and restaurants. Most of these locales also have a "menú del día," which for one fixed price includes two courses, a drink, dessert, and bread for as little as € 6.00! For tapas, hit up the streets around Plaza Mayor or walk 15 minutes north to the Calle Van Dyck, famous for its quantity tapas bars. Finally, the area around the Salamanca University, itself full of students living on a budget, is brimming with dining establishments that will leave you full without emptying your bank account.
Here are a few of Salamanca's cheap dining hot spots:
Valladolid
c/ Federico Anaya, 74
Tlf: 923 24 91 08
Go here for: Frequented by students, Valladolid boasts quality, inexpensive food and is known for its meat dishes.
La Fábrica
c/ Libreros, 47-49
Go here for: More of a hang-out than a restaurant, the cheap and yet scrumptious food at La Fábrica naturally makes it a favorite of the university crowd.
Restaurante Isidro
c/ Pozo Amarillo, 23
Tlf: 923 26 02 80
Go here for: Great typical Spanish restaurant with a fantastic "menú del día."
Bambú
c/ Prior, 4
Tlf: 923 26 00 92
Go here for: Spanish dishes and tapas perfect for the budget diner.
Plus Ultra
c/ Consejo, 4
Tlf: 923 21 72 11
Go here for: Always busy, this classic local favorite has a great atmosphere and a huge array of typical Spanish tapas at equally attractive prices.
Patio Chico
c/ Meléndez, 13
Tlf: 923 26 57 42
Go here for: The Patio Chico has an extensive menu of typical dishes, but head for the tapas- the locale is known for its filling portions.
Mesón el Consultorio
c/ Ávila, 38-42
Tlf: 923 12 24 95
Go here for: Good food, filling portions, and manageable prices make Mesón el Consultorio a good spot to hit up.