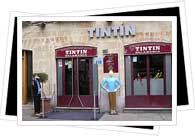 In a city brimming with bars and restaurants serving both traditional and innovative Spanish food, there is certainly no one place to go for a typical Salamanca dining experience. With unbeatable views, the cafés in the Plaza Mayor may charge double but the view and the atmosphere are well worth it. If you're looking to spend an evening soaking up Salamanca's tapas culture, the nearby Plaza del Mercado is chock-full of them, as are the streets Calle Meléndez and Rúa Mayor, which both have tables set out on pedestrianized streets. The most popular typical tapas bar zone, however, is about a 15-minute walk north of Plaza Mayor on the Calle Van Dyck- the perfect spot to go bar-hopping along the "tapeo" trail.
Here are a few typical and popular Salamanca bars and restaurants spread throughout the city:
El Candil
c/ Ruiz Aguilera, 14-16
Tlf: 923 21 72 39
Go here for: It may seem a bit pricey, but El Candil has excellent dishes typical of Castilla; its roast goat kid (cabrito asado) has garnered quite a reputation.
Cervecería del Comercio
c/ Pozo Amarillo, 23
Tlf: 923 26 02 80
Go here for: Along with fantastic tilework, bullfighting photos, and an impressive collection of used beer cans, this relaxed restaurant serves up great Castilian meat and fish dishes for moderate prices.
Restaurante Río de la Plata
Plaza del Peso, 1
Tlf: 923 21 90 05
Go here for: Head to this local favorite for Castilian home-cooking with an extensive menu of simple but good meat and fish dishes.
El Bardo
c/ Compañía, 8
Tlf: 923 21 90 89
Go here for: With a tasty "menú del día" and generous tapas portions, it's no wonder El Bardo is a Salamanca hit.
Mesón Las Conchas
Rua Mayor, 16
Tlf: 923 21 21 67
Go here for: Soak up the lively Spanish atmosphere in Las Conchas, a restaurant and bar that specializes in embutidos (cured meats) for reasonable prices.
Casa Paca
Tlf: 923 21 89 93
Go here for: Known as one of the city's best restaurant, Casa Paca has been serving up typical Spanish dishes since 1928.
Patio Chico
c/ Meléndez, 13
Tlf: 923 26 57 42
Go here for: With a huge list of tapas choices, the Patio Chico is know for its creative menu options.
La Hoja
c/ Pasaje Coliseum, 19
Tlf: 923 26 40 28
Go here for: Combining unlikely ingredients with the typical local products yields an interesting menu in this innovative restaurant.
Momo
c/ San Pablo, 13-15
Tlf: 923 28 07 98
Go here for: Featuring a tapas bar on the ground floor and a restaurant on the underground floor, Momo is a trendy place, slightly pricey restaurant that boasts a mix of modern and traditional dishes.
El Asador
c/ Van Dyck, 18
Go here for: Pinchos (tapas)
El Café de Chinitas
c/ Van Dyck, 12
Go here for: Pinchos (tapas)
El Mesón de Van Dyck
c/ Van Dyck, 55-57
Tlf: 923 25 51 29
Go here for: Pinchos (tapas)