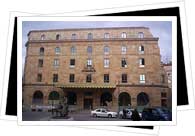 As a destination equally beloved by Spaniards, students, and tourists, Salamanca naturally has a wide range of accommodation options. However, with so many competing hotels vying for your attention, researching and narrowing the options down to just one is often a dreaded task that people keep putting off out of frustation. However, don't panic!
First, figure out how much you want to spend on a hotel- knowing your price range drastically helps trim down the list. Then pick the area of town that you'd like to situate yourself in- use our city guide for a little guidance! Now pick a hotel from the possibilities that remain, and problem solved! You have yourself a hotel.
The main hotel zones in Salamanca are the historic "barrios" of the Salamanca University Quarter and the Plaza Mayor Quarter, both of which include everything from budget hostels to top-notch abodes. In these areas, many of the hotels are renovated historical buildings tucked right into the city streets and surrounded by a delightful hodgepodge of cafés, shops, and restaurants. Plus, these areas are chock-full of cultural and touristic points of interest, meaning that you'll already be close to where you'll be spending a lot of your time.
Other parts of town to check out for hotels are around the train station or bus station. While hotels here are more modern, less atmospheric, and removed from the city, they do offer convenient and immediate access to transportation in and out of the city.